Regular price
Sale price
$22.00 USD
Unit price
per
Sale
Sold out
LED
FLASHER
RELAY
Now you can fix the flash rate on your
bike with this Plug'n'Play solution!

This Electronic Flasher relay directly replaces the
stock relay on most Yamaha, Honda & Kawasaki's.
NO TOOLS REQUIRED
For bikes with non-standard two wire flasher relays (not on compatibility list),
this flasher relay can still be used by removing the connector & hard wiring it.
Three wire relays can also be replaced if one of the wires is a ground wire.

Stock relay position shown on a 2005 R6.
Most bikes will have a similar setup & location.
This unit is guaranteed to replace any two-wire flasher relay
& operate at the normal DOT blink rate for motorcycles with
stock blinkers, all LED blinkers or any combination of both. 
I CAN FIT BLADE CONNECTORS ON REQUEST...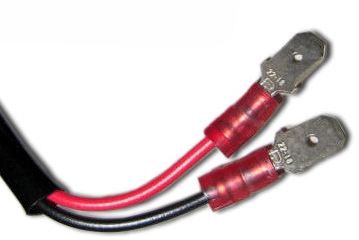 Required On:
R15 / R25  -  Ninja 250R / 300's
GSX-1000F / 2017+ GSX-R1000
_____________________
FITMENT INCLUDES:
Yamaha:

R1
R6
R3
R15
MT-03
MT-07
MT-09
FJ-09
YZF600
FZ6/R
XJ6S
FZ1/N/S
FJR1300
HONDA:

VTR250, CBR1000RR
CBR900RR, CBR929
CB919, ST1300, VT600
CBR600 F2/3/4/i
GL1500, 1100XX
VTR1000F, RC51
KAWASAKI:
250R, 300, Z300, ER-6, 650R
ZX6, ZX9, ZX10, ZX12, ZX14
Z750, Z1000, ZXR1200/1100
ZZR1200, ZX1200, ZR-7, Z800
Suzuki:

GS500
TL1000S
GSX-S1000/F
2017+ GSX-R

Also all late model GSX-Rs, Busa & SV's with
7-pin replaceable flashers are compatible,
but require a hard-wire installation.
Triumph:
DAYTONA 675/R
Ducati:
996 - Requires hardwire install.
AND MANY MORE!!
For bikes with non-standard two wire flasher relays (not on compatibility list),
this flasher relay can still be used by removing the connector & hard wiring it.
Three wire relays can also be replaced if one of the wires is a ground wire.
_____________________
Click the link below to
check out my eBay store
for heaps of other items:

RATEDR PARTS



View full details